Information Technology
·
Head Office
·
Hybrid Remote
Head of Delivery
Description 
We are hiring a Head of Delivery to manage how the portfolio of work is delivered to the rest of the business safely and quickly. You will be expected to create confidence and assurance to key stakeholders ensuring initiatives are delivered when promised and risks are clearly identified, managed, and communicated. All teams are expected to work in the open with the strategic delivery office bringing together the information needed to present a clear view of the portfolio to our key stakeholders. You will lead our delivery community of practice and work within our tech leadership team to support and encourage continuous improvement across the department. This is a chance to support and grow the capability of our delivery managers, to help them and their teams to deliver value safely and quickly, using styles and techniques to suit the challenge ahead of us. You will grow the delivery community and work closely on a 121 basis with the delivery managers, strategic delivery office and business analysts. You will help to define what skills they need to develop or share with the wider community and department.
You will be part of the IT senior leadership team and will be expected to contribute to our ways of work, the wellbeing of the department and our budget and technical strategy.
You will work with the portfolio manager to co-ordinate activities across multiple streams of work the teams are delivering. You will discover and reduce dependencies, test assumptions and risks and ensure that the team are aligned to our four pillars; work in the open, create a learning culture, make data driven decisions and deliver value safely and quickly. You will ensure that the stakeholders are equipped with all the information about how and what the tech team are delivering.
We have been going through a digital transformation, changing how we deliver value to our business. A big part of this change is fostering a culture of trust, collaboration, open, honest, and inclusive behaviour, enabling psychology safety and creating a place for teams to do their best work and have fun.
The Teams
At Footasylum we have multidisciplinary teams made up of; a delivery manager, a product manager, business analysts, UX designers, software engineers, DevOps engineers and QA engineers. We like to keep our teams small enough that they become a unit of delivery, but large enough that people can pair and mob on tasks and knowledge can be shared out.
Our teams are stream aligned, working closely with stakeholders on key initiatives which are delivered each quarter. These areas include retail, logistics, finance, merchandising, customer loyalty and e-commerce. They are supported by teams that create the shared services architecture.

We recognise that we have some legacy systems that cover business areas, so we swarm on issues with the wider teams using the equivalent of an Andon cord so people are alerted to, and team up on fixes together. At every point, our teams support each other and the business to do the right thing with autonomy, mastery, and purpose.
We use our communities of practice to provide support for those in similar disciplines. We recognise that along with our day-to-day job it is important to take time alongside the product managers, designers, delivery managers and leadership team to improve how we work within our disciplines. As Head of Delivery, you will support and mentor the principal delivery managers to grow and nurture the delivery community.
With us, you will have the opportunity to influence our decisions, help define standards across the teams and contribute to a healthy and happy working environment.
About You
Within your current role, you are reliable and are known for getting programs of work delivered safely and quickly. You are familiar with peak seasons within a business and know how to coach teams to plan to meet deliveries within this. Your department takes full responsibility for end to end delivery from inception to handover to BAU. You are someone who can bring people and teams together. You ask the hard questions about dependencies, outcomes, and assumptions to key the teams aligned and delivering value. Your communication to the team and business is always crystal clear. You can quickly visualise the challenge and bring together the right people to make the right decisions. Your teams see you as a leader, coach, and mentor. Always there to help, support and encourage ideas along with ensuing no-one is left behind on the journey.
You clearly know where the business value lies and know how to use the best processes and disciplines meet business objectives. You have an analytical mind and take time to align the work with the strategy of business whilst guiding the teams on that path, removing, or clearing all obstacles in the way. You've worked with strategic delivery offices or PMO's before to deliver multiple projects or initiatives and know how to improve the input and output of the portfolio. You are someone who supports Agile delivery and have a good understanding of the Agile principles and why they are important alongside good practises. You know about 3X or Pioneers, Settlers and Town planners and create empathy between the different groups to get the best out of them.
You have vast experience of working with stakeholders from various levels of a business to ensure there is a shared understanding of the why, what, when and how. You support those around you, you are constantly learning and work in a kind, considerate and collaborative manner with a keen interest in new ways of working.
You enjoy mentoring others and have experience in helping delivery managers develop their knowledge and skills. You really understand the role of a delivery manager within a team. You know how to work with the team and stakeholders to build and deliver roadmaps at different phases of a product lifecycle, from discovery, experimentation, to build measure and learn iterations of a live service. You understand that businesses make good decisions with data rather than opinion and have a data first approach. You have experience of supporting and mentoring others in your community to do the same.
We are offering up to £100,000 for the right person, which we assess based on your own experiences, technical skills and against the principles of our department and our ways of working.

Diversity
We recognise and value the importance of diversity to help make sure we have lots of different perspectives when we are building products and services. We know that this will help us build useful and accessible things which our customers will love. This is great news for our business. Diversity for us is also, importantly, about building happy teams full of people that want to learn and want to be inspired by each other and our different experiences.
Recruitment Process
Our teams are working in a hybrid way, and we are still adjusting to this way of working as best we can - and as such we'll help make the interview process as clear and stress-free as possible, giving you the same opportunity as if we were meeting face to face.
We review applications on an individual basis, and if we feel you would be a good fit we'll invite you to meet with the leadership team for an informal chat about the role, and to see if we're a good fit for you.
We are not fans of presentations or whiteboard interviews, we value open and honest conversations and collaboration instead, giving you a chance to learn about what we are doing in an informal and friendly environment. We want to know about you and your approach towards delivering objectives whilst coaching and mentoring teams.
Location
Please note, this is not a remote role and our expectation is that you will be able to attend Head Office in a hybrid way, in Greater Manchester.
Department

Information Technology

Role

Head of Delivery

Locations

Head Office

Remote status

Hybrid Remote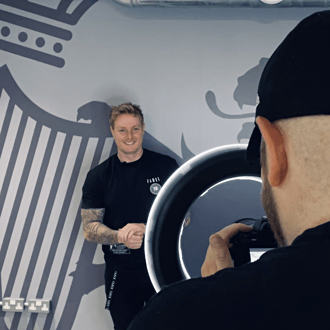 Contact
David Nottage
Talent Attraction & Acquisition Manager – Human Resources
Life at Footasylum
No two days are the same. We encourage autonomy, creativity, imagination and ambition to be fuelled by the core principle that we create an environment for our colleagues to be successful. People who are motivated by being part of a successful team, whilst having the opportunity to express their passion and make a difference are who we want. We have a high performing, energetic environment and we want you to be a part of it. Sound like something you want to be a part of? Check out our latest Footasylum jobs today.
About Footasylum
We've been the go-to for the freshest trainer and apparel releases since 2005, whether it's big name brands or emerging bedroom labels we've got it covered. With over 65 high-street stores across the UK, we're taking over the high street one step at a time.
Information Technology
·
Head Office
·
Hybrid Remote
Head of Delivery
Loading application form
Already working at Footasylum?
Let's recruit together and find your next colleague.